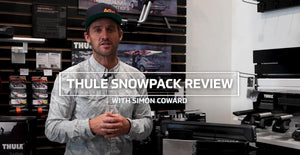 Thule Snowpack Review | Low-Profile Roof Rack Ski Carrier
This article is a quick product overview and review of the Thule Snowpack ski and snowboard carrier. The Thule Snowpack has been around for a long time and seen a number of iterations. It's a premium low profile scissor style ski and snowboard carrier.  
Thule Snowpack: Different Sizes and Ski / Snowboard Capacities
The Thule Snowpack comes in a number of different sizes.
Medium
Carries two snowboards or four sets of skis.
Large
Carries up to four snowboards or six sets of skis.  
Thule Snowpack Features
Lockable
You can lock the clamp in place for additional security. The way it fastens to the load bars is also lockable, so you've got a fully secure system.
Ease of Use
The Thule Snowpack is really easy to use. If you have gloved hands and it's cold at the end of the day or in the morning, it's very easy to open and close the snowpack.
Ski Protection and Grip
This ski and snowboard rack features reinforced rubber strips, which protects your skis. The rubber also provides a very firm grip, so there's no risk of your skis / snowboards moving around or coming loose during transit.
Fastening Options
Another nice thing with the Thule Snowpack is it comes with a number of different fastening options in the box. If you have the more traditional style square or round bars, theres a fastening piece, which essentially goes on the bottom and loops around the bar, and then you just tighten it.
If you have more of an aero blade style, or a wing bar system, there's a fastener which makes the Thule Snowpack sit flush on top of the load bar.  
How to Carry Skis and Snowboards on Your Vehicle
There are a couple other options for transporting skis and snowboards on a vehicle.
Carry Skis and Snowboards Inside Your Vehicle
The simplest way is to just stick them in the back of your car. If you're driving on your own or with not many people, that's often an option. But from a safety and a comfort standpoint, it might be worth considering putting the skis and snowboards on the outside of the vehicle.
Carry Skis and Snowboards in a Cargo Box
One of the pros of a cargo box vs a scissor-style / Thule Snowpack rack, is that your gear is out of sight. If there's any would-be criminals looking to steal some skis or snowboards for themselves, they can't see inside the roof box.

Cargo boxes are also more versatile. You can use them in the summer, or you can put ski boots and ski poles (and whatever else) in them quite easily. But cargo boxes are quite bulky. They do affect gas mileage to some degree, and they are quite large. So if you have a taller vehicle, you may not fit into parking garages, or you may not fit into your garage at home.

Also, cargo roof boxes are much more cumbersome and bulky to put on and take off your vehicle.
Thule Snowpack Pros and Cons
Pros
Lockable
Super Low Profile
They don't really affect the height of your vehicle
Quick and Simple to Use
There's also the Thule Snowpack Extender, which is the same as the large size, but it pulls out. So it overhangs your vehicle, which means you don't have to reach up and over the roof of the vehicle to load things.
The Thule Snowpack Extender enables you to do this right at eye level, outside the line of the vehicle, which makes loading and unloading even easier.
Cons
Not as versatile as a cargo box. But, you could carry fishing rods, hockey sticks, kayak paddles etc. in the off season, if you wanted to.
So that's our Thule Snowpack review. If you have any questions, please contact us below or visit us in store!
AQ Outdoors Contact
Edmonton:  (p) 780 463-4892 (e) info@aquabaticsedmonton.com
Calgary:  (p) 403 288-9283  (e)  info@aqoutdoors.com
---